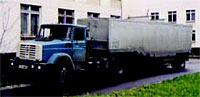 One shipment of 100,000 Bibles rolled in from Minsk, Belarus for unloading at League of Prayer's warehouse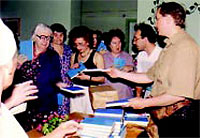 Office Building employees coming to receive a Bible.

"...God said, Let light shine out of darkness."
II Cor. 4:6
Moscow's City-Wide Bible Blitz was arranged. Bibles were placed in rooms of hotels, (5000 in one we frequented), in office buildings, on the streets, in Kremlin Square, etc. Thousands were donated to Moscow Central Baptist Church, Independent and Pentecostal churches for distribution. Hundreds of thousands of Bibles, New Testaments and Children's Color Illustrated Bibles were provided to multitudes who'd never seen one! How moving and memorable to see kisses and hugs bestowed on God's Word by those who had all their lives been denied this privilege.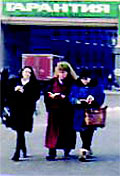 Many read as they walked.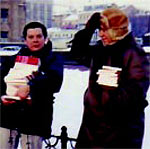 Dr. John Mark Trent and Bernard Stewart distributing Bibles in Kremlin Square 3 feet of snow and -10 F.
Children's Hospital explodes with excitement of each child being given his/her copy of the "God Book."

Hospital librarian says thanks to our Stan Tawbush for the food and medicines League of Prayer has provided, but double thanks for Bibles and other Christian books. "The other things help a little while, but these books fix the soul forever," she said.

Hotel Director says, "Yes, you may place a Bible in every room here, and I'll call three other hotels for you...You know each copy will be taken the first day." Stan replied: "We'll be back and replace them."

Staff of Moscow Central Regional Hospital assists Stan in placing 500 Bibles in each room, but 950 were received for each of its employees.