| | |
| --- | --- |
| Mary Stewart Relfe, Ph.D. | |
---
History of Current Events & Bible Prophecy
Scientists now speak of the world not as "post anything," but as "pre-apocalyptic."
Dr. Relfe writes:

Clock of the Bulletin of the Atomic Scientists -7 minutes till midnight.
All ministries flow out of prayer.
In 1980, I was asked to teach a course in Soteriology, the doctrine of salvation. While kneeling in prayer, the Lord spoke:
"Current Events and Bible Prophecy.
" Various news sources provided events obviously dovetailing into fulfillment of Bible Prophecy. When the 13-week quarter ended, a stranger handed me a typed manuscript of each of the lectures. Upon receiving it, the Lord impressed me to publish it. The title was
When Your Money Fails, 666
. Other books followed, and my
Monthly Newsletters
on the subject have circled the globe.
"Prayer affects God. It secures favors from God that can be secured in no other way, and will not be bestowed by God, if we do not pray." E. M. Bounds
---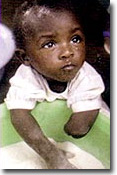 "Blessed is he that considers the poor; the Lord will deliver him... preserve him...strengthen him, and make all his bed in sickness."
Ps. 41:1-3
Our most gracious LORD, though high above all, considers the lowliest of all - the poor. This branch of Godliness has the promise of the life that now is, and recompenses temporal blessings to those who likewise consider the poor! Fortunate the soul that has found its lodgment in the spaceless dimensions of Divine love for the poor!
League of Prayer began its humanitarian work in the ghettoes of Montgomery, AL, the state's prisons and its poor. Few nations exist today that have not been recipients of this charity - schools, churches, homes, hospitals, orphanages, shelters, prosthetic center, wells and emergency supplies in disasters. Please join us in the road less traveled and assist some of earth's neediest. For when we consider the least of these, Jesus takes it as being done unto Himself. Mat. 25:40